Nathan Syntronics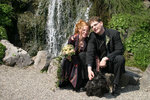 Willkommen auf Nathan Syntronics, dem Internet-Auftritt von Torben Nehmer.
Wie man an den untenstehenden Nachrichten unschwer erkennen kann, wir diese Webpräsenz nicht mehr aktualisiert. Leider habe ich die Zeit dafu¨r nicht mehr. Vielleicht aber wieder in der Zukunft, man kann ja nie wissen.
Latest News
Compiling the PHP-Memcached 1.5 extension
(2005-10-11 11:58)
It is a known bug, that the PHP memcache extension doesn't find the zlib libraries even if installed. Check this article if you want to know how to compile it on Debian.
Details ...
Using the MidCOM CLASS-style privileges
(2005-07-27 11:09)
Yesterday I added the so-called CLASS-style special privileges to the MidCOM ACL system. Their usage is not that hard, but since they are falling a bit out of the regular ACL "scheme", it can be a bit confusing at first. This Blog entry gives a quick introduction into them.
Details ...
New MgdSchema classes for MidCOM - Installation Instructions
(2005-07-15 20:15)
With the move to MgdSchema for MidCOM 2.6, there is now the possibility to introduce new core tables / classes into the system. These days I have started to utilize this possibility for both ease of use and performance. To make this work, you need to observe a few things since the MgdSchema core is not fully stabilized yet. This document outlines how to set up your Midgard Installation so that MidCOM can use these classes. Be aware that current CVS MidCOM will no longer run without these classes/tables being available.
Details ...