Midgard Knowledgebase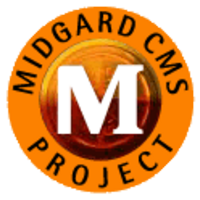 The Midgard Project is a dynamic content management system extending the Apache server. On this pages I'll release some of my Midgard code for public use.
Be sure to check out Nico Kaiser's own collection of Midgard Goodies!
I'd appreciate if you drop me a note if you use my code along with some comments about it.
Legal Disclaimer
Most of this code was built while I worked for the Linksystem München as Webmaster and Web Developer. Therefore, unless noted otherwise this code is copyright (C) 2001 Linksystem Muenchen GmbH, but you are free to use, modify and redistribute it under the terms of the GNU Lesser General Public License published by the Free Software Foundation; version 2.1 of the license (Feb 1999).
This code is distributed in the hope that it will be useful, but WITHOUT ANY WARRANTY; without even the implied warranty of MERCHANTABILITY or FITNESS FOR A PARTICULAR PURPOSE. See the GNU Lesser General Public License for more details.
Any documentation on this site is available under the GNU Free Documentation Licence.